24.03.2020 - Influence of COVID-19 on Business Operations
Update (March 24, 2020):
Alysium's global operational condition remains fundamentally unchanged since the last update. The world is different, as are our operational structures, however we continue to run smoothly in this new guise.

In Germany, remaining office based staff each of their own "safe areas" within our facilities; to ensure social distancing and compliance with the "max 2 people per well ventilated room" policy.
Additionally, we have initiated use of our sample production resources to support the production of medical supplies, such as face shields for local medical facilities (https://open-diy-projects.com/doityourself-gesichtschutz-faceshield/) .

In Malaysia, the government has extended the MCO (Movement Control Order) from March 31, to April 14, which means that our Sales and Engineering office in Subang (Kuala Lumpur) will remain closed, however staff remain available online and by phone, and shipments are continuing.

Our production in Perak is operating under an exceptions notice, due to our position as a Key Supplier to various essential industries, incl. medical (under plant certification of ISO 13485). Attendance is based on staff members' individual circumstances, with an emphasis on their and general society health and safety. As such, we are not operating at full capacity, and minor delays of non-critical parts could occur. Active management of the prioritisation process is ongoing. Finally, our freight forwarding services continue to support to this business, however many other airlines have announced a hiatus in their service to Malaysia. This has no impact on current business, but does represent an elimination of a further transportation safety net.
Production and operations in China, primarily relating to our automotive businesses, are fully operational and working hard.

Fortunately, we can continue to report no diagnosed cases among our staff or their families.
We wish all good health in these unique times and thank you for your continuous support, sense of community and contribution to resolving this challenge together.

Matthew SIMONS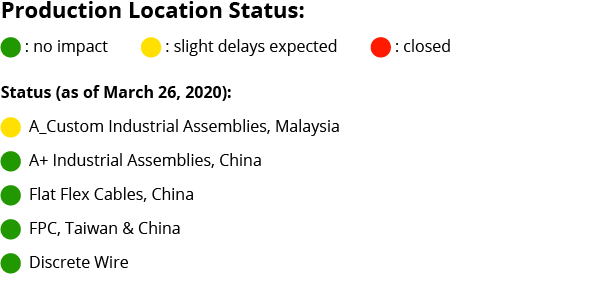 Update (March 17, 2020):
Malaysia has been placed under nationwide movement control order (under the Prevention and Control of Infectious Diseases Act 1988 and well as the Police Act 1967) from March 18 to March 31, 2020, due to the COVID-19 outbreak.
With the enforcement of this order, Alysium's office in Malaysia will remain closed during this time. Our factory is allowed to operate with restrictions, subject to a daily attendance review on site, but also the regular review of COVID-19 development in Malaysia in general, by the respective authorities. As such production capacity is likely to be reduced and delays may occur. We hope our operation will be back to normal on Wednesday, 1st April 2020.
Any inconvenience is very much regretted and we wish you "Stay Safe and Healthy Always".
Fortunately, we have no diagnosed cases among our staff (globally) or their families.
---
Implementing elements of our Business Continuity Plan (BCP), the following actions have already been undertaken:
ALYSIUM personnel are operating from Home Office, wherever possible. Telephone extensions are being forwarded, hence your contact person is still available.
International and National staff travel has been cancelled until further notice.
We will continue our support via Telephone, GoToMeeting, email and other online communication tools.
Precautions in offices have been increased, incl. increased cleaning frequency with daily disinfection of common areas, face mask provision and greater separation of working spaces.
Daily review and Impact Analysis of the developing situation, communication information where appropriate