08.04.2015 - The future has arrived: Robust USB Type C Receptacles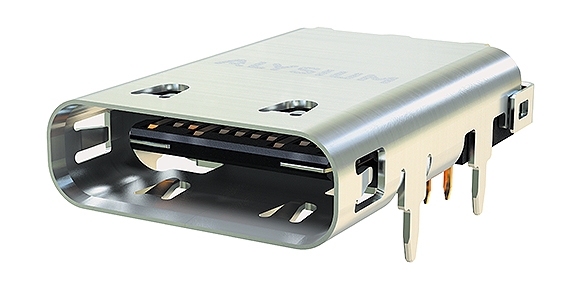 The future has arrived: Robust USB Type C Receptacles
are now available to OEMs.

Alysium offers the first connectivity solutions
for the new USB 3.1 standard.
With 10 Gbps and 100 Watts, the latest standard of the Universal Serial Bus USB 3.1 is deemed to be THE computer interface of the next 10 years. Major manufactures are already offering or have announced computers and accessories based on this technology. Besides the performance increase, USB 3.1 comes with an all new hardware interface: The USB Type C connector, which brings two major advantages over the traditional and backwards compatible concepts of USB 1.1 up to USB 3.0: It is reversible, meaning you can plug in the connector either way. Equally, the Type C connector fits to the host as well as to the peripheral, so the cable can also be plugged in either way.
Alysium, the expert in connectivity solutions, has released a USB Type C connector as one of the first worldwide. It is designed for minimum 10,000 mating cycles with an optimized architecture for the bi-directional high-speed data transfer of 10 Gbps and power transmission of 100 Watts (20 V, 5 A). Therefore it is best suited for applications in automobiles, computers and peripherals, such as consumer accessories, industrial cameras or dedicated interface cards.
In the course of the year, Alysium will also release the first industrial grade USB 3.1 cables with Type C connectors.