Alysium-Tech offers CameraLink ® assemblies for Industrial Applications. We can supply Base and Full Configuration cables in various wire sizes, to ensure optimal suitability to your application. Our superior cable products, easily meet the requirements in even the highest frequency applications. We offer assemblies with assembled metal housing connectors, or more reasonably priced moulded plug assemblies.

And of course, HiFlex, Chain and Robotic cables are also part of our standard portfolio.
See the brand new CameraLink assemblies in action: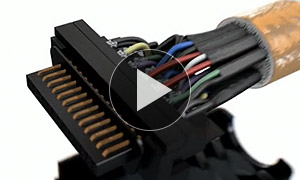 Roll over to see Product Attributes and Benefits.
Extended Length
High Flex Extreme
High Flex Moderate
High Temperature
Power Over Cable
Reduced OD
Smaller Plug Size
Water Proof